With its high ceilings and woodwork, the "Grand Duc" asserts itself as the most opulent of the two lodging houses.
With 17 bedrooms, a capacity for 48 people, a magnificent wellness area with swimming pool, jacuzzi, hammam and sauna, the "Grand Duc" is the perfect place to meet up with family, friends and colleagues for a relaxing stay.
Its south-facing orientation will allow you to enjoy a bright stay, both inside through large windows and outside on its wide terrace.
The light of the wood fire in the wide living room, the American billiards table and the football table will enjoy your evenings.
Lodging house description
Lodging
For a detailed inventory of the bedrooms, we invite you to consult the "Detailed building plan" section.
The "Grand Duc" offers 17 bedrooms, 11 have their own bathroom (10 with shower, 1 with bathtub), 2 others have a shower and the last 4 bedrooms share two additional bathrooms on the same floor, each with 2 showers, 2 toilets and 2 sinks.
Usually, the bedrooms have 2 or 3 single beds (1 person). Only 1 bedroom has a double bed (2 people) and 1 bedroom has 2 bunk beds for 4 people and 2 have a cot.
With single beds, it is easier to distribute people in the bedrooms, especially for your business meetings.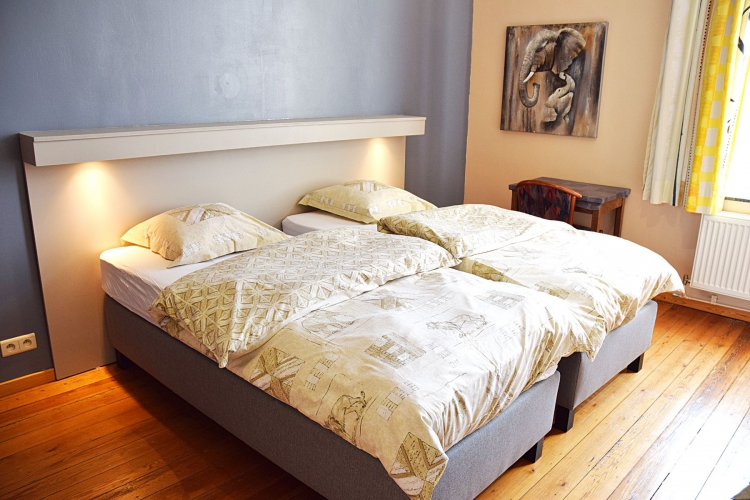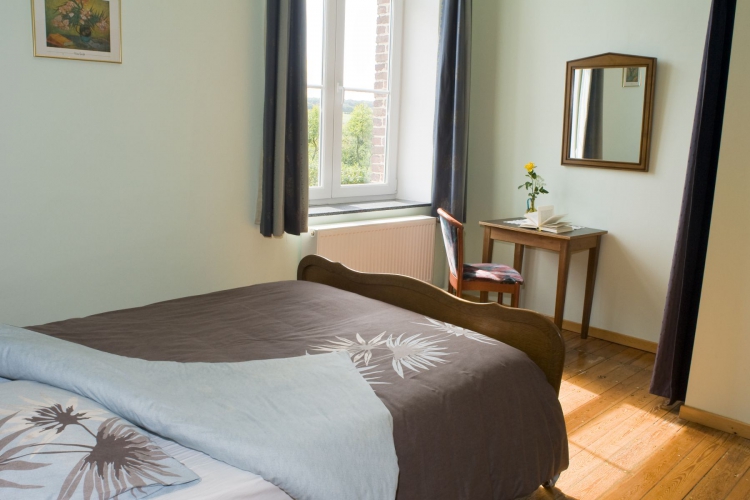 The maximum accommodation capacity is 48 people + possibly 2 babies.
To guarantee the safety of the visitors as well as the good condition of premises, it is absolutely forbidden to add additional berths (air mattress, foldable bed or other) whether to increase the accomodation capacity or simply to modify the layout.
(The security certificate, following the report of the Fire Prevention Office, was issued for a maximum of 50 people).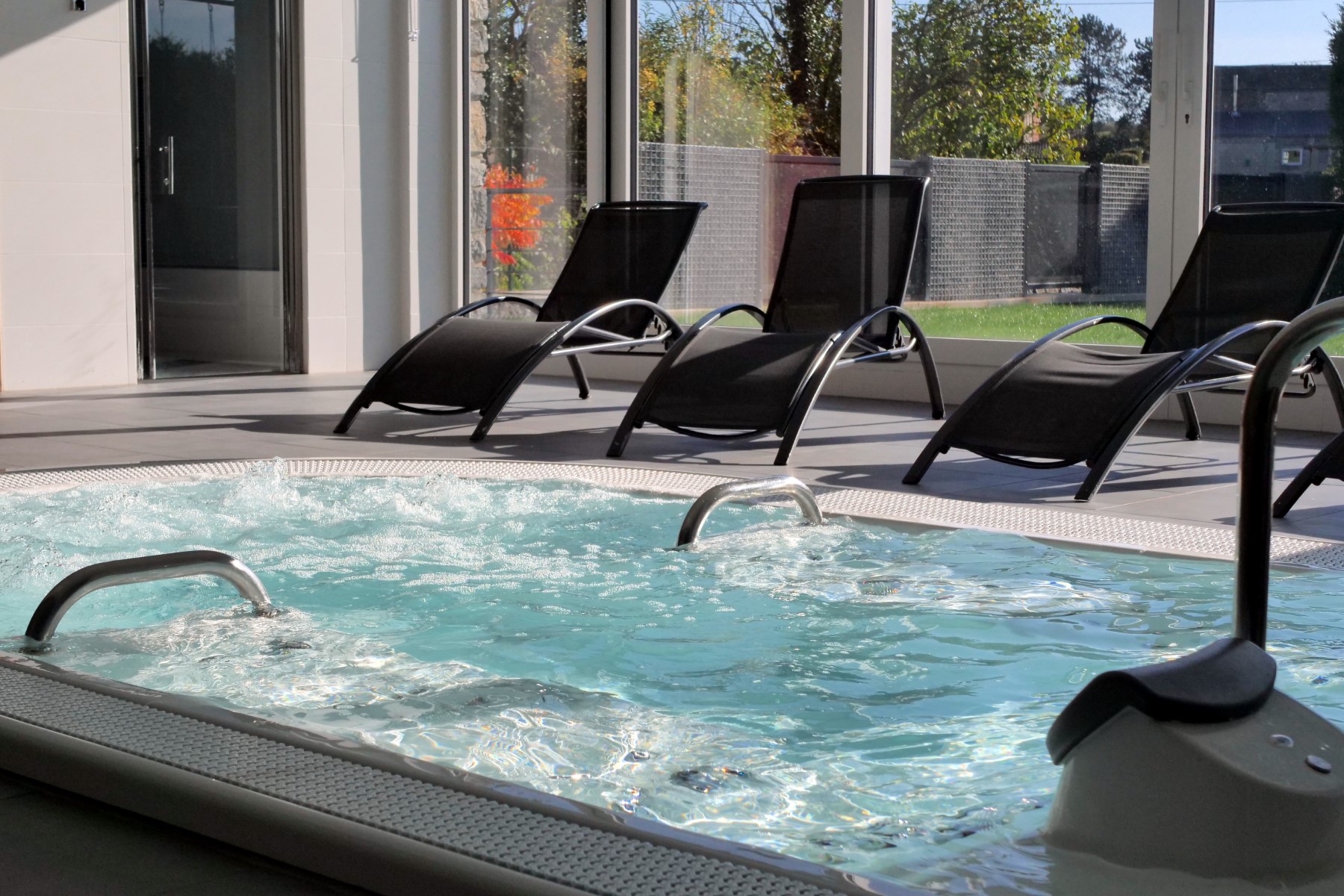 Wellness area
The wellness area of the "Grand Duc" is located in a wide annex with plate glass windows overlooking the garden.
Its swimming pool is 11 m long by 4 m wide - Deph: inclined plane of 1,00 m at 1,80 m. Constant water temperature: 28°.
The amazing jacuzzi can accomodate 7 people. A hammam (8 people) and a sauna (6 people) complete this marvellous relaxation area.
The area also has 2 showers and 1 toilet.
Interior comfort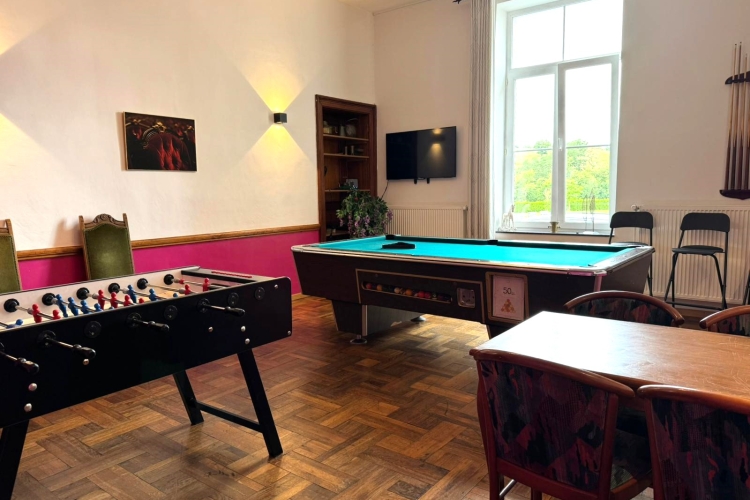 The ground floor of the "Grand Duc" has two separate lounges.
The bigger lounge especially is a recreational room. It offers American billiards table, football table, drinks fridge and stereo system and it is suitable to spend a quiet moment comfortably seated in front of the fireplace.
The small lounge is equipped with a TV and a DVD player.
Free WiFi is available throughout the building.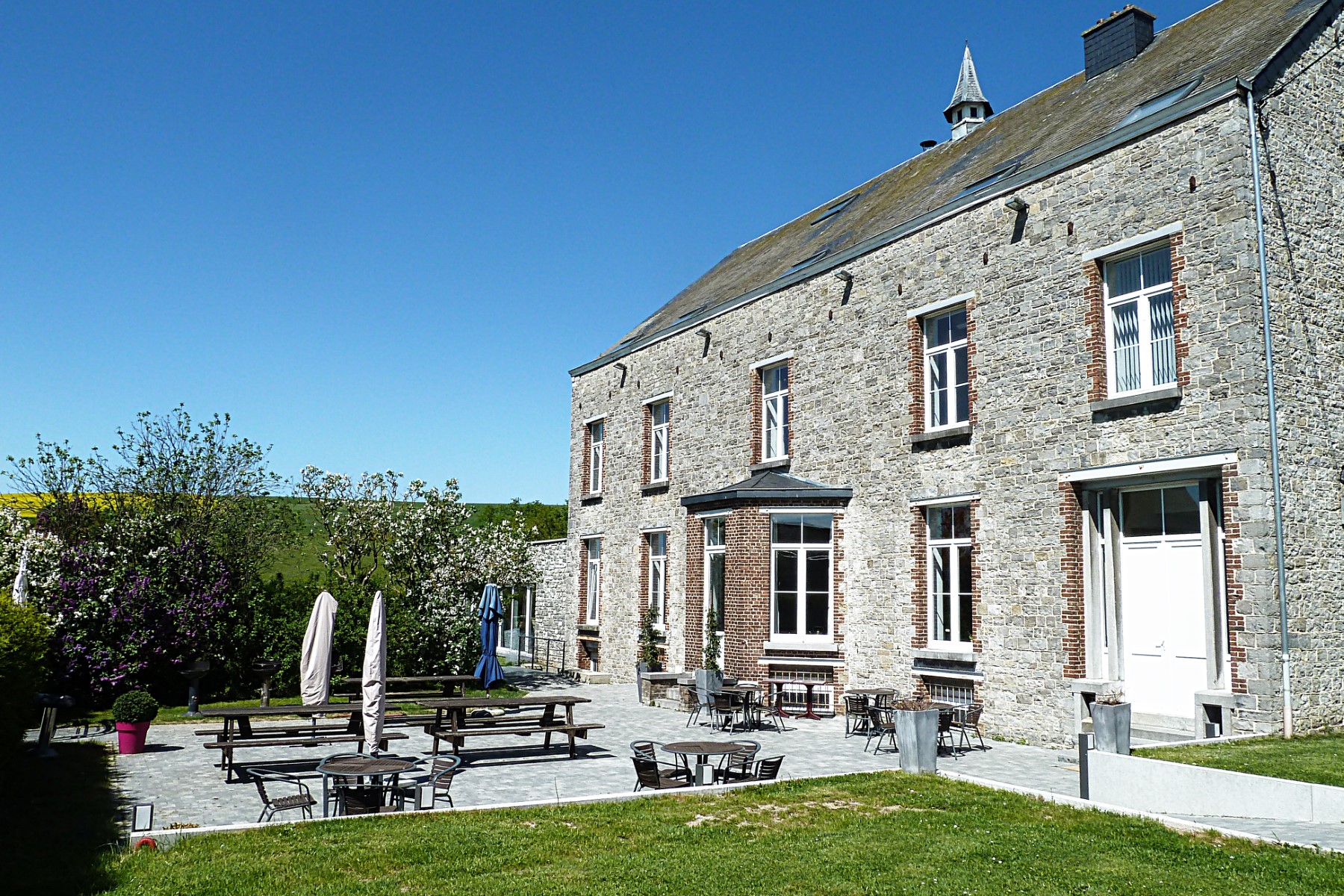 Outdoor layout
"Le Grand Duc" has a beautiful south facing terrace (200m²) with garden furniture and barbecue.
A specific area of 200 m², well delimited, fenced and equipped with swings, is reserved for young children.
Moreover this lodging house has a lawn of 1500 m², while football goals are present in the huge back lawn (1 hectare) common of the two lodging houses.
The private car park, located behind the building, can accommodate 20 cars.
Kitchen layout
The kitchen equipment is more than enough to serve the 48 people that the lodging house can accomodate.
For cooking, there are 5 gas hobs, a gas grill (100cm), an electric oven (80 cm) and a microwave oven.
The kitchen has a cold room (1,80m x 1,20m), a freezer and a professional dishwasher.
There is a tableware for sixty people and a complete cookware set. You will have the main useful equipments during your stay: 2 percolators, 1 coffee machine (60 cups), 1 toaster, 1 professional blender.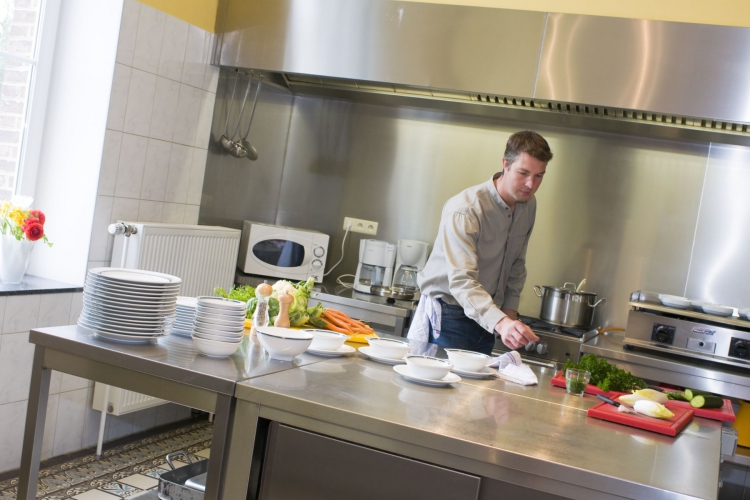 Calendar of availabilities - Le Grand-Duc
/
Personalized formula
If the proposed formulas are no longer available or do not suit you, do not hesitate to contact us to request a personalized formula with at least 2 nights. If it is possible, we will send you a personalized estimate.
No standard formula is available on this date
The calendar of availabilities could not be loaded. Please try again later.
Mo.
Tu.
We.
Th.
Fr
Sa.
Su.
Mo.
Tu.
We.
Th.
Fr
Sa.
Su.
Lodging house "Le Grand Duc" - Possible bookings on
If a booking is canceled due to COVID19 government measures, any deposit paid will either be postponed to a later agreed period, or fully refunded.
Groups of young people, organization of student parties, bachelorette/bachelor parties ... are absolutely prohibited.
In order to guarantee the quality of the property, the lodging house is only reserved for family or friends meetings and seminars.
Pets prohibited.
Charges
The amounts we present on this site include the rent and the fixed charges, valued for an occupancy of the Lodging by 48 people.
The "tourist tax" and "rental bedding" will be adapted according to the final number of people who occupied the lodging house.
Fixed charges :
Cleaning : 350€
Water : 40€ per day
Tourist tax : 1€ per person per night
Container (waste) : 40€/stay
Bed linen rental : 10€ per person per stay - (we preprare the beds before you arrive, it is mandatory)
Additional charges :
Heating : according to consumption and market price.
Electricity : according to consumption and market price (double counters day/night)
The additional charges include heating and electricity consumptions and which are too variable to be included in fixed charges. The price given in the estimate will be based on the consumption of holidaymakers who have stayed in the lodging house for an similar period. This will be an indicative information and not a contractual information.
The heating and electricity costs will have to be payed at the end of your stay, after meter readings with you at the start and the end of your stay.
Options :
Bath towels rental : 4€ per set and per stay (optional)
Meeting room rental (only in lodging house "Le Hibou") : 150€ per stay, reserved for a professional use.
These options will be included in the estimate, according to your request.
Other costs : Only in the lodging house "Le Grand Duc"
Wood logs : According to the consumption, not included in estimated charges.
American billiards table : 0.50€ (coins) per game.
A rental guarantee or security deposit (2.500€) have to be payed into the company's account at least 5 days before the start of the stay. It will be payed back no later than 15 days after the end of the stay, after deduction of charges and fees not paid on your departure.
Detailed building plan
Ground floor (level 0)
1srt floor (level 1)
2nd floor (level 2)
3rd floor (level 3)